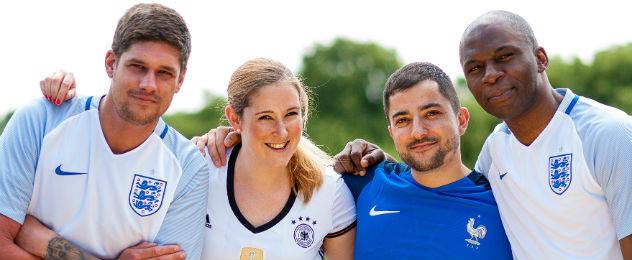 Um mit Kunden oder Vertriebspartnern in Kontakt zu treten, gibt es im Bereich Marketing unterschiedliche Möglichkeiten zu gewohnten und ungewohnten Anlässen. Kaufentscheidungen sind immer emotionsgeladen, so dass mit zielgerichteten Kampagnen die Kundenbindung und auch die Neugewinnung von Kunden erheblich gesteigert werden kann.
Geschickt eingesetzte Maßnahmen zu verschiedenen Anlässen wie zum Beispiel dem internationalen Day of Happiness und der 2018 beginnenden Fußball-WM in Russland können den Jahresumsatz zusätzlich steigern – angefangen bei speziellen Rabatt-Angeboten bis hin zu spannenden Zugaben bzw. Incentives und Gutscheinen.
Bei diesen Kampagnenanlässen lohnt es sich, sich bereits so früh wie möglich damit zu beschäftigen, um die Kunden, über das ganze Jahr verteilt, mit überraschenden, emotionalen und innovativen Kampagnen begeistern zu können.
1. Fußball-WM 2018 - Mehr Cross-Selling durch intelligente Produktplatzierung
Eine sehr verbreitete, aber auch durchaus wirksame Maßnahme ist das Cross-Selling. Wer denkt, dass die Fußball-WM 2018 in Russland dafür kein Thema ist, der irrt: Auch zur Weltmeisterschaft lässt sich durch eine intelligente Produktplatzierung der Wert des Einkaufs deutlich erhöhen.
Beispiele dafür sind die Platzierung von Fanartikeln wie Flaggen im Getränkemarkt oder am POS des Supermarktes. Eine solche Platzierung ist aber auch bei Online-Shops möglich. Kauft der Kunde eine bestimmte Anzahl an Artikeln, erhält er einen Fanartikel obendrauf. Der Umsatz steigt und der Kunde fühlt sich für seinen Einkauf vom Händler belohnt. Selbstverständlich kann auch ab einer gewissen Umsatzhöhe ein Gutschein für den nächsten Einkauf angeboten werden, um somit den Wiederkauf noch mehr zu fördern.
2. Day of Happiness – machen auch Sie Ihre Kunden glücklich
Jährlich am 20. März findet der internationale Day of Happiness statt. Er ist ein perfekter Anlass, den Kunden mit einer spannenden Kampagne zu überraschen, beispielsweise mit einem kleinen Gewinnspiel, bei dem jedes Los gewinnt. Frei nach dem Motto: "Sei glücklich – jeder ist ein Gewinner!".
Diese Gewinne – beispielsweise Rabattgutscheine - können sofort, online oder beim nächsten Einkauf eingelöst werden. Es bedarf hierbei keiner hohen Summen denn Beträge von 5 EUR – 10 EUR genügen, um den Kaufanreiz beim Kunden deutlich zu erhöhen.
3. Tag der Freundschaft – der perfekte Anlass für Neukundenwerbung
Zum "Tag der Freundschaft" am 30. August bietet es sich an, den Kunden und einen seiner Freunde glücklich zu machen. Der Kunde macht beispielsweise ein Foto seines Kassenbons oder der Bestellbestätigung und schickt diese per WhatsApp mit der Email Adresse eines Freundes an das Unternehmen und beide, Kunde und Freund, erhalten einen kleinen Gutschein.
Damit begeistern Sie nicht nur bestehende Kunden - dies ist auch eine gute Möglichkeit Neukunden zu gewinnen. Maßnahmen wie diese können sich schnell zum Lauffeuer entwickeln. Ein Kunde wird geworben, dieser wirbt wieder einen neuen Kunden usw.
4. Einen schönen Tag "einfach mal so" - Förderung von Empfehlungen durch kleine Kundengeschenke
"Einen schönen Tag "einfach mal so". Überraschende kleine Aufmerksamkeiten wie eine rote Rose oder ein Kleeblatt aus Marzipan an der Kasse oder Probierpäckchen bei Onlinebestellungen.
Kleine Kundengeschenke für jeden 10. Kunden oder jeden 5. Einkauf können einen mehrfachen Erfolg mit sich bringen. Diese kleinen Hingucker kosten den Händler nicht viel, sind aber sehr effektiv zur Steigerung der Weiterempfehlungsrate. Nur zu gern erzählt der Kunde positive Einkaufserlebnisse seinen Bekannten und Familie.
5. Sommer-Shopping Erlebnis in Aussicht stellen
Nachweislich verlängert sich der Einkaufsbummel durch gebotene Möglichkeiten des Kundenerlebnisses deutlich, denn der Kunde möchte unterhalten werden. Eine Kostprobe der speziellen Sommerweine, die Möglichkeit den Picknickkorb vor Ort selbst zusammenzustellen oder interaktive Gewinnspiele bieten dem Kunden einen deutlichen Mehrwert.
Wie wäre es beispielsweise mit einer Sommerrallye? Hier kann der Kunde ab dem offiziellen Sommerbeginn jede Woche in der Filiale oder online fünf "goldene Strohhüte" finden und diese gegen tolle Preise - wie einen Gutschein – eintauschen.
Wichtig ist bei allen Maßnahmen vor allem eines: Kommunikation!
"Bereits im Verkaufsgespräch sollte jeder Kunde auf die aktuellen Aktionen hingewiesen werden. Dies unterstützen zudem Mailings, Werbematerialien und Aushänge vor Ort, um jeden Käufer über seinen bevorzugten Kommunikationskanal abzuholen." so Mark Gregg, Geschäftsführer der BONAGO Incentive Marketing GmbH.